Do you want to send a pdf invoice to your customers after a purchase? In this tutorial, we are going to show you how!
You must be sending invoices to your customers. Not only their accountant will thank you but in some countries, they are mandatory by law.
Sending the default WooCommerce Invoice
The good thing is that WooCommerce already has an invoicing feature. So to send the invoice all you need to do is open an order and go to "Order Actions" and select "Email Invoice/order details to customer"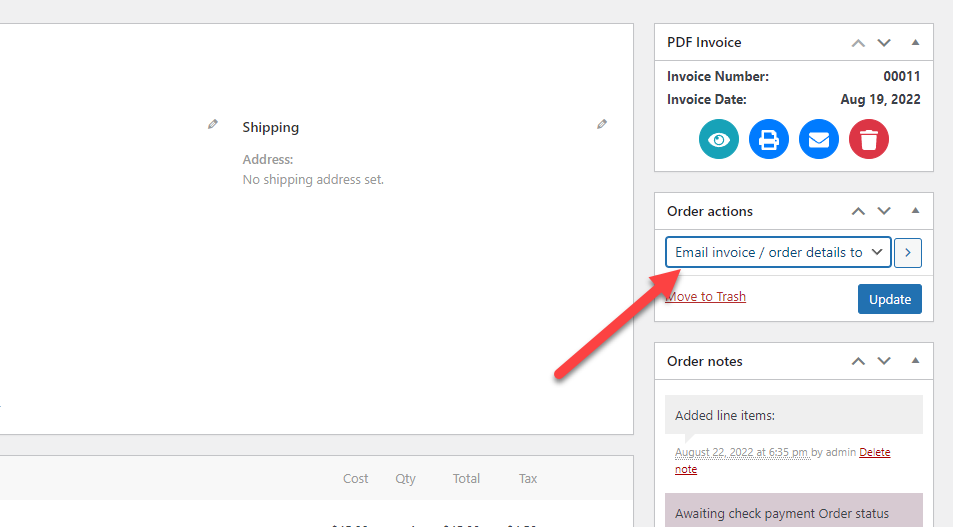 Then click on the button at the right to send this email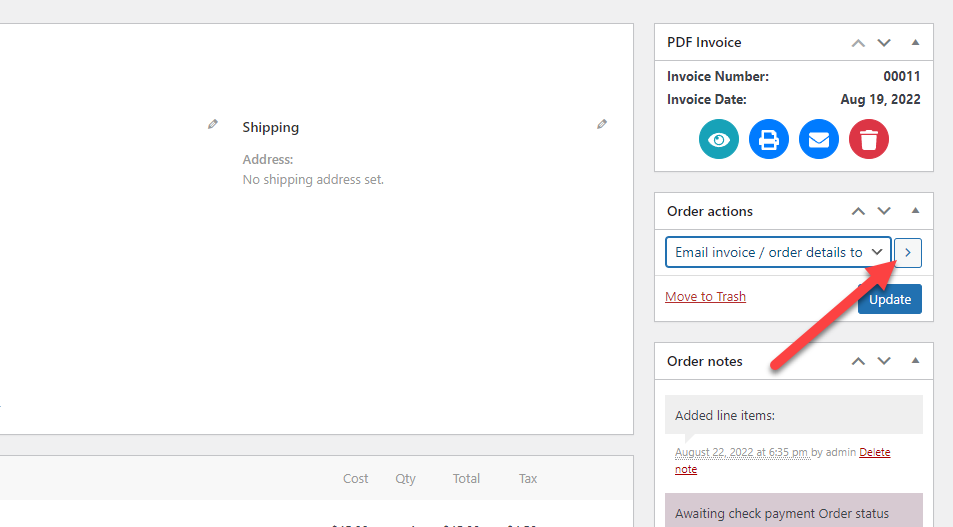 and that's it, following this steps WooCommerce will send an invoice to your customer, this email will contain the order information like the customer name, products purchased, order number, etc.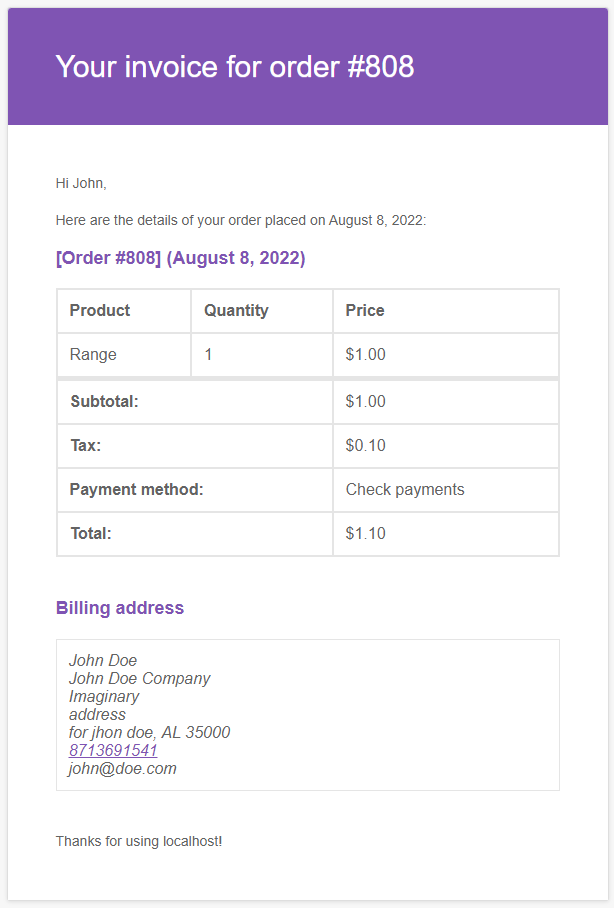 Improving our invoicing system
The basic WooCommerce invoicing system scratches your need of sending invoices to your customers but it has two main problems:
You need to click on the send invoice button: Do you want to log into your account and click on the send invoice button every time you receive an order? If you do you might want to test for OCD, a person would normally want to avoid doing this repetively at all costs, and here you are going to learn how.
It is just an email: Your customer accountant will love you for sending them their invoice but after opening the email he will hate you because you didn't include a pdf version. it is harder for them if you don't include a pdf copy, also it looks pretty unprofessional.
Fortunately, we can fix these issues by just installing an additional plugin (and it is free!). To install the plugin follow these steps:
1.- Go to your WordPress dashboard and click inonlugins/Add new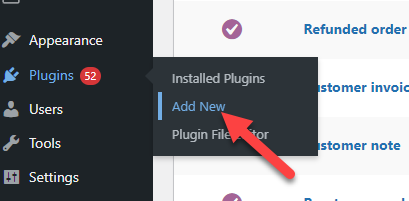 2.- Search for the plugin WooCommerce Invoice Builder and click on "Install Now"
Search for the text WooCommerce Invoice Builder you will find the plugin WooCommerce PDF Builder, Create invoices, packing slips and more click on install now.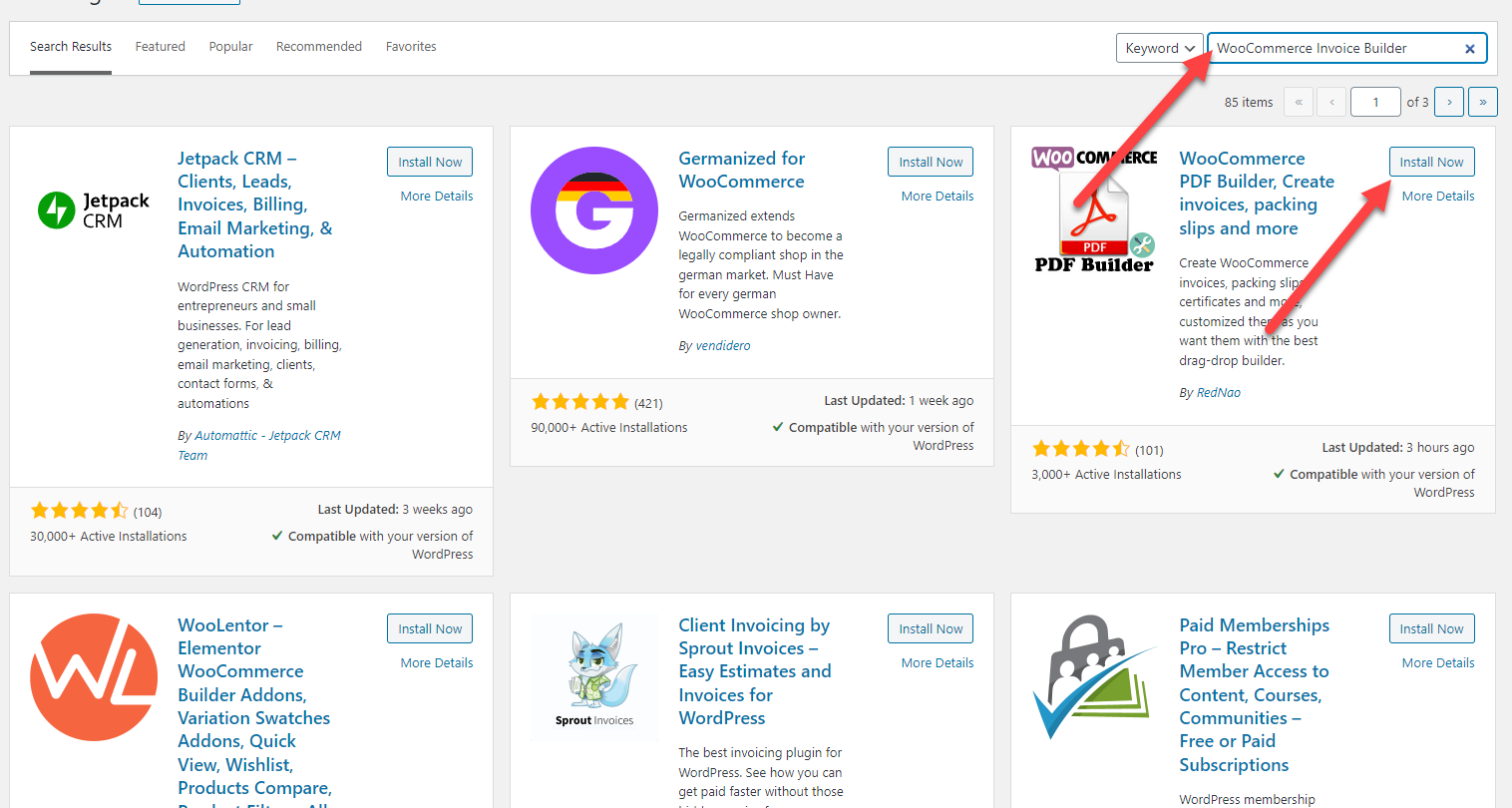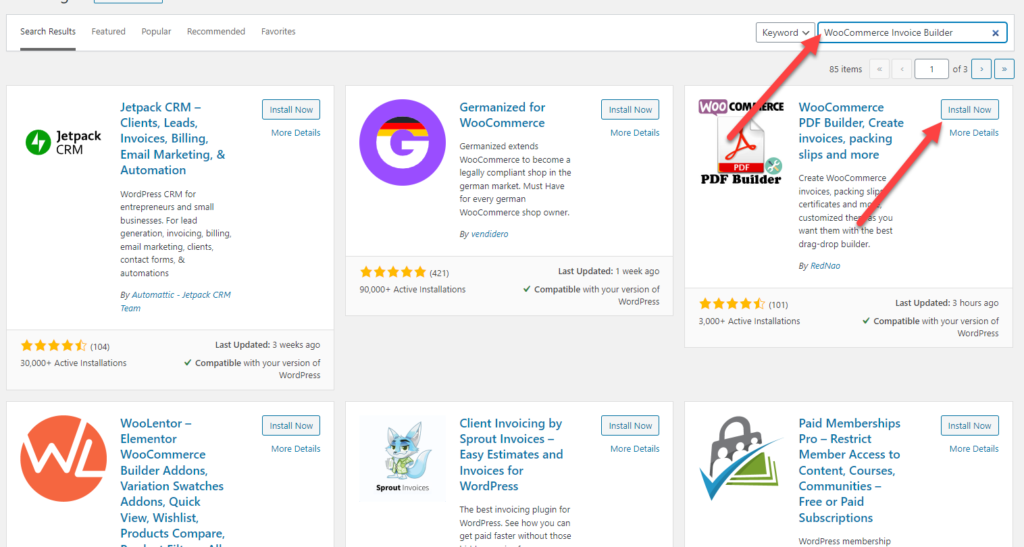 And that's it! after installing the plugin it will attach a pdf copy of the invoice to the "Order Complete Email" (this is the email that the customer receives after purchasing something) so you don't need to send the invoice email anymore, also the order complete email will include the pdf which then your customer can save to do its accounting.
Customizing the pdf invoice
Now that your store is sending invoices to your customer like the pro you are you might one to go one step further and customize your invoice a little bit. For example, what about adding your logo to the invoice or adjusting the taxes so they are shown the best way according to your country's regulations?
All these can be done easily using and you know what is the best part? you don't need to code anything! everything can be done using the drag-and-drop designer.
To open the invoice designer click on "WC Invoice"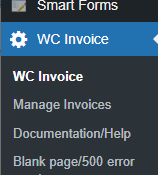 And click on the edit button of your template,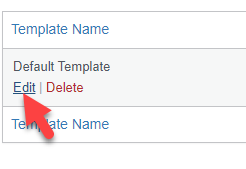 This will bring you to the template designer, in there you can customize every single aspect of your template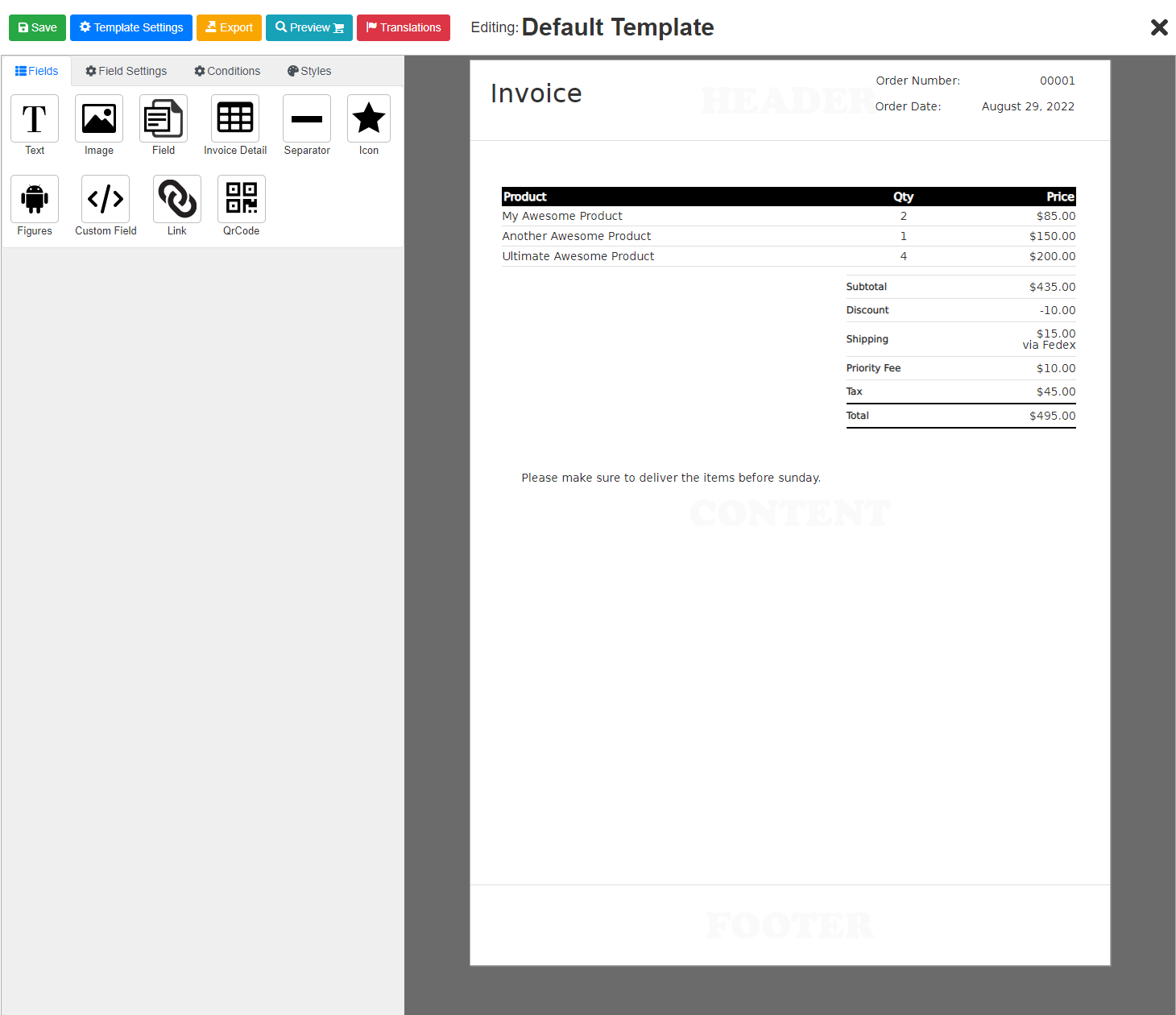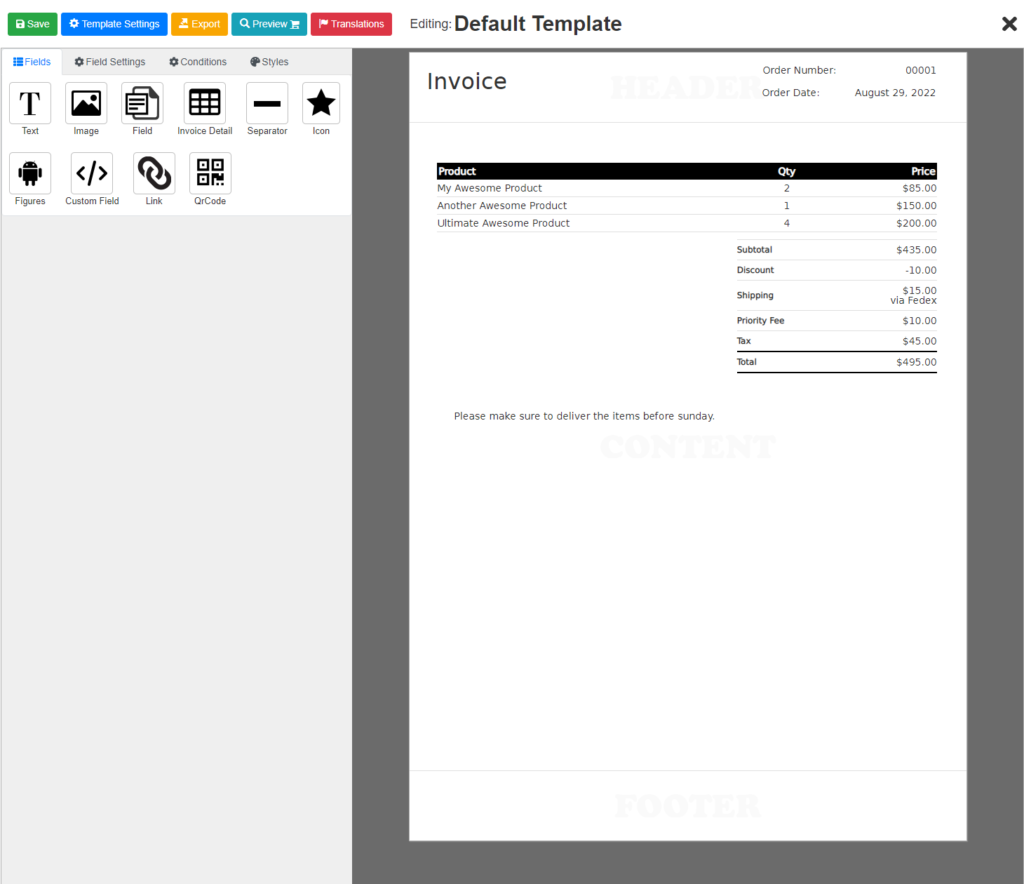 And that's it! now WooCommerce will include your pdf invoice in every "Order Completed" email.
Conclusion
Now you know how to send customer invoice in WooCommerce, but there are a bunch of stuff to learn if you want to become a real pro. The invoice designer is a very powerful tool that can let you do not only invoices but any kind of pdf (such as packing slips, shipping notes, or labels).
For a more detailed explanation of what you can customize please check
WooCommerce pdf invoices & packing slips | Creation guide